HCRA Marlins Swim Team
Summer 2018
Welcome back! We are looking forward to a GREAT 2018 season. Keep an eye out for those emails from Mrs. Psuik keeping you well informed of what's happening with the Hungary Creek's Marlins!
We'll try to keep this site up to date, see below for a quick list of dates to remember.
Meet Results Posted
Final Score: HCRA Hungary Creek Marlins 1289, Church Run 1265
Full meet results can be found on the results page.
Upcoming Dates:

July 25
End of Season Picnic
Volunteers
Sign up for your shifts by clicking the link below.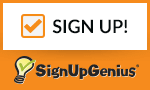 Picnic
Mark your calendar! Please join us Wednesday July 25th at 6:30pm for our annual swim team picnic.
More Info!
Please contact the team's Parent Representative, Valerie Psuik, 804-986-7016